Patient's Satisfaction Regarding Outpatients Department Services in a Private Clinic of Karachi
Zille Huma

Dow University of Health Sciences

Syeda Uzma Naqvi

Zeba Ahmed

Meraj Rahim

Muneer Sadiq
Keywords:
Patient's satisfaction, Out Patient Department, Private Clinic
Abstract
Objectives: To determine the frequency of blood groups in different ethnicities among medical students of Karachi and the association of blood groups with Covid-19 susceptibility
Methodology: A cross sectional study was conducted among medical and dental students of Liaquat College of Medicine and Dentistry from January 1st to October 30th, 2019 after taking Institutional Review Board's approval. Data was collected from students of different ethnicities. Blood group was determined by mixing the blood with antisera and observing the agglutination by antigen and antibody reaction. Screening for Covid-19 was carried out by reverse transcription polymerase chain reaction real-time (RT-PCR)
Results: In our study, data was collected from 220 medical students, out of whom 89 (40.5%) were male. Their ages ranged from 17-22 years with mean age of 19.5±2.39 years. Among 220 students, group B was the most common blood group, accounting for 77 (35%) participants. Screening, the most susceptible blood group for Covid-19 virus was found to be blood group B (61%).
Conclusion: According to ethnicity, blood group B was the most common group in Punjabi and Urdu speaking populations while among Sindhis, A and O were the prevalent groups. The Rh positive group was found to be more susceptible to Covid-19 virus and blood type B+ was revealed to be in higher association with it.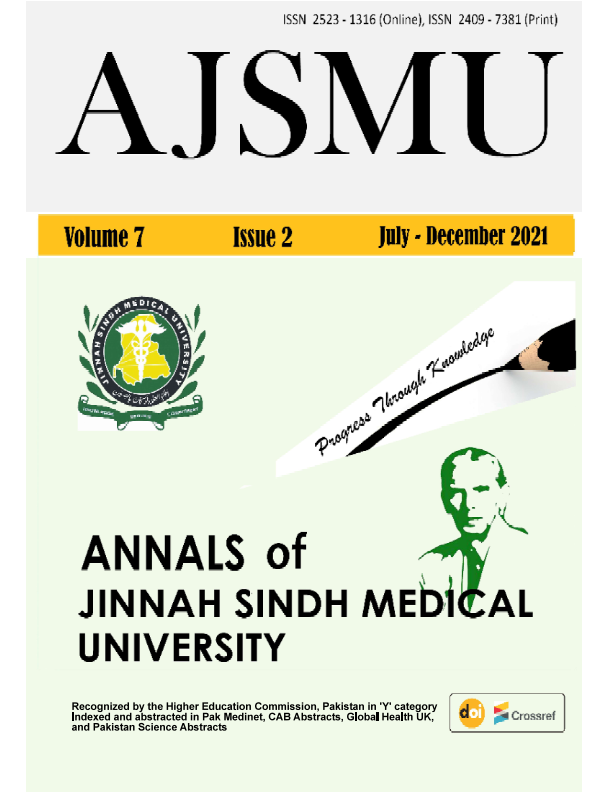 How to Cite
Huma, Z., Naqvi, S., Ahmed, Z., Rahim, M., & Sadiq, M. (2021). Patient's Satisfaction Regarding Outpatients Department Services in a Private Clinic of Karachi. Annals of Jinnah Sindh Medical University, 7(2), 60-64. https://doi.org/10.46663/ajsmu.v7i2.60-64
Section
Original Articles