Perceptions of First and Second Year Medical Students to Improve Structured Viva Voce as an Assessment Tool
Ambreen Khalid

Department of Physiology, Shalamar Medical and Dental College, Lahore, Pakistan

Ayesha Sadiqa

Department of Physiology, Shalamar Medical and Dental College, Lahore, Pakistan
Keywords:
Viva voce, Response, MBBS Students, Assessment
Abstract
Objective: To determine the perceptions of 1st and 2nd year MBBS Students about structured Viva Voce
Methodology: This cross sectional study was conducted at Shalamar Medical and Dental College
Lahore, on 92 students. Duration of study was from July to December 2018. A questionnaire (based on 5 points Likert scale) was generated in Google forms and link was shared with the participants. The analysis was done by using SPSS version 21, frequencies and percentages were calculated, and Chi-Square Test was applied.
Results: Out of total 92 students, 32% belonged to the 1st and 68% to 2nd year MBBS. Majority of the 2nd year students (50.8%) showed their satisfaction regarding fairness and coverage of wide range of critical areas by Viva Voce as compared to the 1st year students. Greater percentage of students from both years consider that viva voce covered wide range of critical areas and were satisfied with level of difficulty and logical sequencing of viva voce questions. More than half of the participants from both classes consider it a valid assessment tool. Majority of 1st (65%) and 2nd year (63.1%) students thought that this tool of assessment highlighted their weaknesses and significantly higher number of 2nd year students consider that viva can highlight their strengths regarding the topic.
Conclusion: Majority of students from both years showed their satisfaction regarding various aspects of Viva Voce. However, significantly greater number of 2nd year students were satisfied with the capability of Viva Voce in highlighting their strengths as compared to 1st year students.
References
Ganji KK. Evaluation of Reliability in Structured Viva Voce As a Formative Assessment of Dental Students. Journal of Dental Education. 2017; 81(5):590-96.
Dhasmana DC, Bala S, Sharma R, Sharma T, Kohli S, Aggarwal N, Kalra J. Introducing structured Viva Voce examination in medical undergraduate pharmacology: A pilot study. Indian J Pharmacol. 2016; 48(Suppl 1): S52-S56.
Hashim R, Ayyub A, Fatima-tuz-Zuhra, Hameed S, Ali S. Structured viva as an assessment tool: perceptions of undergraduate medical students. Pak Armed Forces Med J. 2015; 65(1):141-4.
Dangre-Mudey G, Damke S, Tankhiwale N, Mudey A. Assessment of perception for objectively structured Viva Voce amongst undergraduate medical students and teaching faculties in a medical college of central India. International Journal of Research in Medical Sciences. 2016; 4(7):2951-54.
Kaur N, Manzoor S, Kaur S, Goyal A. Comparative evaluation of structured viva-voce examination and conventional viva-voce examination in ii mbbs students. Int J Med Sci Educ. 2019; 6:1-5.
Louis F. Small, Pretorius L, Walters A, Ackerman M, Tshifugula P. Students' perceptions regarding the objective, structured, clinical evaluation as an assessment approach. Health SA Gesondheid. 2013; 18(1):629-37.
Shaguphta T Shaikh. Objective Structured Viva Examination Versus Traditional Viva Examination in Evaluation of Medical Students. Anat Physiol. 2015; 5(3): 175.
Varuni de Silva , Hanwella R, Ponnamperuma G. The validity of oral assessment (viva) that assesses specific and unique competencies in a post-graduate psychiatry examination. SL J Psychiatry. 2013; 3 (2):16-19.
Shumway J.M. & Harden R.M. AMEE Guide No. 25: The assessment of learning outcomes for the competent and reflective physician. Medical Teacher. 2003; 25 (6): 569-84.
Rokade Shrikant A, Kate Deepali R. Structuring the unstructured: new dimension in viva assessment for anatomy. Int J Anat Res. 2017; 5(2.3):3976-82.
Torke S, Abraham R.R, Ramnarayan K and Asha K. The impact of viva-voce examination on students' performance in theory component of the final summative examination in physiology. J. Physiol. Pathophysiol. 2010; 1(1):10-12.
Ghosh A, Mandal A, Das N, Santanu K. Tripathi, Biswas A, and Bera T. Students' performance in written and viva-voce components of final summative pharmacology examination in MBBS curriculum: A critical insight. Indian J Pharmacol. 2012; 44(2): 274–275.
Imran M, Doshi C, Kharadi D. Structured and unstructured viva voce assessment: A double-blind, randomized, comparative evaluation of medical students. International journal of health sciences. 2019 Mar; 13(2):3.
Shah H K, Vaz F S, Motghare D D. Structured Oral Examination: From Subjectivity to Objectivity - An experience in Community Medicine. Journal of Educational Research & Medical Teacher. 2013; 1(1): 26-28.
Mallick AK, Mallick AK, Patel A. Comparison of Structured Viva Examination and Traditional Viva Examination as a Tool of Assessment in Biochemistry for Medical Students. European Journal of Molecular & Clinical Medicine. 2020 Dec 13; 7(6):1785-93.
Faisal Ghani Siddiqui. Final Year MBBS Students' Perception for Observed Structured Clinical Examination. Journal of the College of Physicians and Surgeons Pakistan. 2013; 23 (1): 20-24.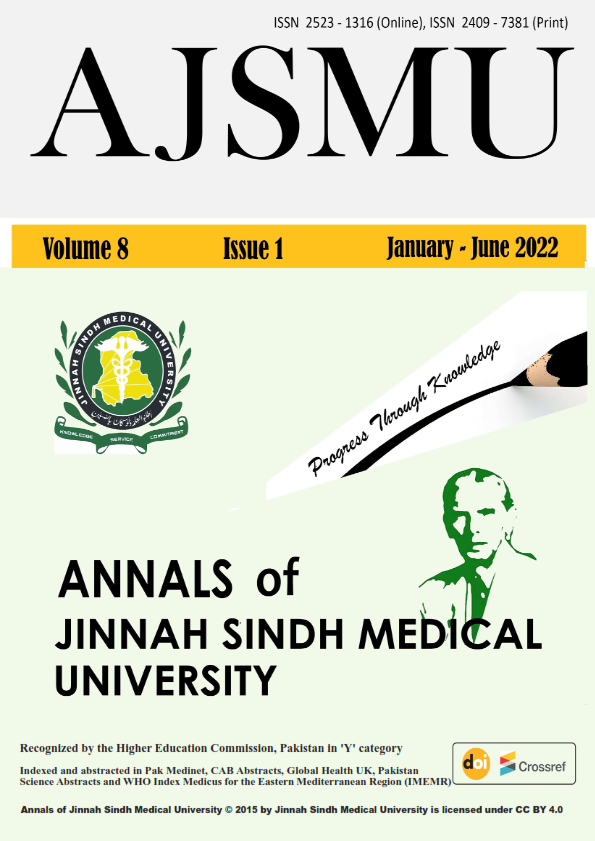 How to Cite
Khalid, A., & Sadiqa, A. (2022). Perceptions of First and Second Year Medical Students to Improve Structured Viva Voce as an Assessment Tool. Annals of Jinnah Sindh Medical University, 8(1), 15-19. https://doi.org/10.46663/ajsmu.v8i1.15-19
Section
Original Articles