Print or Electronic: Preferences of the New Generation of Medical and Dentistry Students
Sarah Amin Charania

Ziauddin University, Karachi, Pakistan

Gati Ara

Ziauddin University, Karachi, Pakistan

Asaad Khalid Khan

Ziauddin University, Karachi, Pakistan

Arsalan Sheikh

Ziauddin University, Karachi, Pakistan

Manisha Devi

Ziauddin University, Karachi, Pakistan

Aarish Lalani

Ziauddin University, Karachi, Pakistan
Keywords:
Print media, Electronic media, Medical students, Mode of learning
Abstract
Objectives: To assess the preference for print or electronic media among undergraduate students of medical and dental colleges of Karachi and to compare the students of public versus private medical and dental colleges according to the study methods they prioritize
Methodology: A cross-sectional survey was conducted over a period of more than a year. At the confidence level of 95% and bound on error of 5%, a minimum sample size of 384 was calculated and sample size of 477 was finalized after allowing for a non-response rate of 24%. The convenience sampling technique was employed to select medical students. Data was collected using a structured, self- administered questionnaire in English language after a written Informed Consent was obtained from each participant. Data was analysed using SPSS version 20. The quantitative variables were represented as mean and standard deviation. The
qualitative variables were represented as frequencies and percentages. Chi-square test of significance was applied for finding any significant differences. P-value of less than 0.05 was taken as significant.
Result: The mean age of n=477 students was 21+/- 2 years. Majority were MBBS students, with 53% from public institutes. We found that 52% students preferred print medium, whereas 26% students preferred screens. There was an association between public sector colleges and preferring print medium (p= 0.0001). A significant association was found between gender and method of study (p=0.0001). Age was associated with preference for print medium (p=0.02), also higher level of study was associated with preferring print medium (p=0.001).
Most students prioritized books (71%) but retained better with videos (63%). Most students (56%) preferred textbooks over reference books. Dr. Najeeb's videos were the most preferred videos (75%), furthermore, the most used site was Wikipedia (48%). Internet was the top source for preparing for PBLs (50%).
Conclusion: The study showed that majority students still prefer print medium and prioritize books over other methods. Students claimed that they retain best with videos and books. So, increasing the use of videos for teaching is recommended. The Pandemic has necessitated the increased use of online teaching modalities. Students should be encouraged to use more reliable websites.
References
Albrechtsen NJ, Poulsen KW, Svensson L, Jensen L, Holst JJ, Torekov SS. Health care professionals from developing countries report educational benefits after an online diabetes course. BMC Med Educ. 2017;17(1):1-8.
Alabdulwahhab KM, Kazmi SY, Sami W, Almujel KN, Alanazi MH, Alanazi KF,et.al. Use of online resources by undergraduate medical students at College of Medicine, Majmaah University, Kingdom of Saudi Arabia. PLoS One. 2021.4; 16(8):e02556 35.doi:10.1371/journal.pone.0255635. PMID: 34347850; PMCID: PMC8336793.
Mohammadi M, Sarvestani MS, Nouroozi S. Mobile Phone Use in Education and Learning by Faculty Members of Technical-Engineering Groups: Concurrent Mixed Methods Design. Frontiers in Education. 2020;5(16). DOI: 10.3389/ feduc.2020.00016.
Learning Technologies Being Used or Considered at Colleges, 2013. The Chronicle of Higher Education. 2021 [cited 10 November 2021]. Available from:https://www.chronicle.com/ article/learning-technologies-being-used-or-consideredatcolleges-2013/
Tindowen DJ, Umayam C, Azardon L. Circulation Analysis of Newly Acquired Print Materials in a University Library circulation analysis of newly acquired print materials in a university library. Library Philosophy and Practice.2019.
Olajide, Olabode M. Adio G. Effective Utilisation of University Library Resources by Undergraduate Students: a case study of Federal University Oye-Ekiti, Nigeria. 2017.Library Ph Prac (e-journal). 1503. http://digitalcommons. unl.edu/ libphilprac/1503.
Wiles, Rose & Boddy, Janet. Introduction to the Special Issue: Research Ethics in Challenging Contexts. Methodol Innov Online. 2013;8:1-5. 10.4256/mio.2013.009.
Karkee, Prabin. Library Awareness among Non-users of Public Libraries: A Study with Reference to the Hilly Areas of Darjeeling District, West Bengal. SRELS J Info Managt.2014. 51. 10.17821/srels/2014/v51i1/47194.
Reading habits among medical students: where does the library stand.2021. available from: https://www.slideshare.net/ MathildePanes/reading-habits-among-medical-studentswheredoes-the-library-stand
Paper or Tablet? Reading Recall and Comprehension [online]. Available from:https://er.educause.edu/articles/2015/9/paperor- tablet-reading-recall-and-comprehension
Bradshaw GW. Internationalization and Faculty-Led Service Learning. New Directions for Community Colleges. 2013; 2013(161):39-53.
Children's On-screen Reading Overtakes Reading in Print; Healthier Reading Balance Using Books and Technological Devices Needed - Available from: https:// twosidesna.org/US/childrens-on-screen-reading-overtakesreading-in-printhealthier-reading-balance-usingbooks-and-technologicaldevices-needed/
Bhatti R, Javed MW. Experience of internet utilization by post graduate students at Nishter Medical College, Multan, Pakistan. Libr Phil Prac. 2014:1:0-1.
Myrberg C, Wiberg N. Screen vs. paper: what is the difference for reading and learning? Insights. 2015;28(2):49-54.
Baron NS. How e-reading threatens learning in the humanities. Chron High Educ. 2014;60(40):1-6.
Mueller PA, Oppenheimer DM. The pen is mightier than the keyboard: Advantages of longhand over laptop note taking. Psychol Sci. 2014;25(6):1159-68.
Mangen A, Walgermo BR, Brønnick K. Reading linear texts on paper versus computer screen: Effects on reading comprehension. Int J Educ Res. 2013;58:61-8.
Hernández-Torrano D, Ali S, Chan CK. First year medical students' learning style preferences and their correlation with performance in different subjects within the medical course. BMC Med Educ. 2017;17(1):1-7.
E-book access methods UK by gender 2021 | Statista [Internet]. Statista. 2022 [cited 11 September 2022]. Available from: https://www.statista.com/statistics/291796/genderdistribution-of-e-book-downloaders-and-accessers-in-the-uk/]
Apuke OD, Iyendo TO. University students' usage of the internet resources for research and learning: forms of access and perceptions of utility. Heliyon. 2018;4(12):1052. 21. Zhou H, Zhang J, Su J. Internet access, usage and trust among medical professionals in China: A web-based survey. Int J Nurs Sci. 2020;7(1):S38-S45. doi:10.1016/j.ijnss.2020.07.003. PMID: 32995378; PMCID: PMC7501489.
Gutmann J, Kühbeck F, Berberat PO, Fischer MR, Engelhardt S, Sarikas A. Use of learning media by undergraduate medical students in pharmacology: a prospective cohort study. PLoS One. 2015;10(4):122624.
Morehead K, Dunlosky J, Rawson KA, Blasiman R, Hollis RB. Note-taking habits of 21st century college students: implications for student learning, memory, and achievement. Memory. 2019;27(6):807-819.
Kharb P, Samanta P, Jindal M, Singh V. The Learning Styles and the Preferred Teaching–Learning Strategies of First Year Medical Students. J Clin Diagnostic R. 2013;7:1089-92. 10.7860/JCDR/2013/5809.3090.
Piolat A, Roussey JY, Thunin O. Effects of screen presentation on text reading and revising.ÊInt J Hum Comput Stud. 1997; 47(4):565-89.
Jabr F. The Reading Brain in the Digital Age: The Science of Paper versus Screens [online]. Scientific American. 2021 [cited 10 November 2021]. Available from:https://www. scientificamerican.com/article/reading-paper-screens/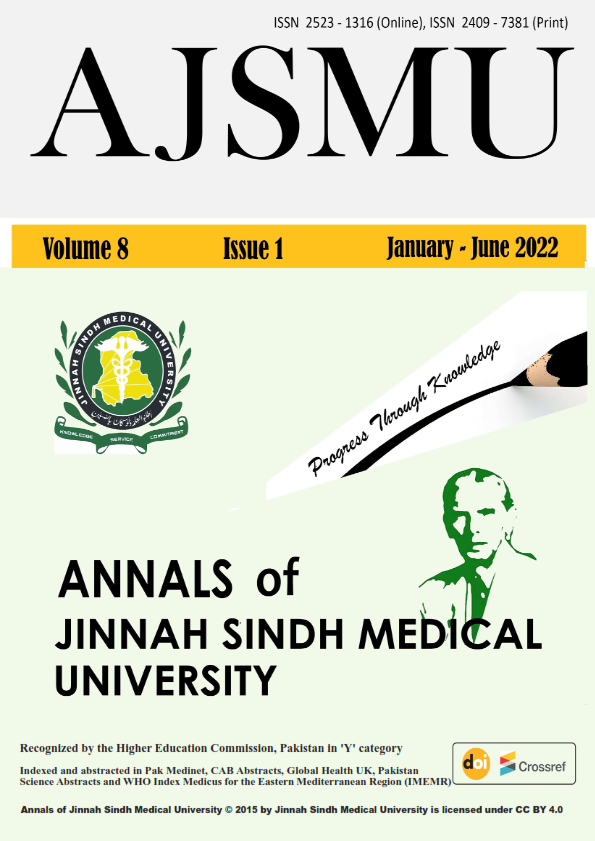 How to Cite
Charania, S., Ara, G., Khan, A., Sheikh, A., Devi, M., & Lalani, A. (2022). Print or Electronic: Preferences of the New Generation of Medical and Dentistry Students. Annals of Jinnah Sindh Medical University, 8(1), 20-25. https://doi.org/10.46663/ajsmu.v8i1.20-25
Section
Original Articles