Prevalence of Carpal Tunnel Syndrome Among Dentists Working in Tertiary Care Hospitals of Peshawar, Pakistan
Muhammad Zubair

Department of Physical Therapy, Northwest Institute of Health Sciences, Peshawar, Pakistan

Perviz Khan

Department of Physical Therapy, Northwest Institute of Health Sciences, Peshawar, Pakistan

Uzair Ahmad

Department of Physical Therapy, Northwest Institute of Health Sciences, Peshawar, Pakistan

Syed Zain Ul Abidin

Department of Physical Therapy, Northwest Institute of Health Sciences, Peshawar, Pakistan

Saeed Ullah Shah

Department of Physical Therapy, Northwest Institute of Health Sciences, Peshawar, Pakistan

Abeer Kazmi

Department of Biotechnology, Faculty of Chemical and Life Sciences, Abdul Wali Khan University Mardan (AWKUM), Mardan, Pakistan
Keywords:
Carpal Tunnel Syndrome, Kamath and Stothard, Boston Carpal Tunnel Questionnaire, Dentists
Abstract
Objective: To determine the prevalence of Carpal Tunnel Syndrome among dentists working in tertiary care hospitals of Peshawar
Methodology: A cross-sectional survey was conducted on 132 dentists working in tertiary care hospitals of Peshawar, Pakistan. The data was collected from four public and three private tertiary care hospitals via convenience sampling technique. A standard Boston Carpal Tunnel Questionnaire, Kamath and Stothard Carpal Tunnel Questionnaire, Numeric Pain Rating Scale and Phalen's Test were used. The data was collected and analyzed by using SPSS version 25. Frequency and percentage were calculated for categorical variables and chi-square test was applied to find the association between variables.
Results: A total of 132 dentists participated in this research out of whom 65 (49.2%) were males while 67 (50.8%) were females. Twenty-eight (21.2%) respondents reported the symptoms of Carpal Tunnel Syndrome. Fifteen (11.4 %) respondents had mild pain and 13 (9.8%) had moderate pain. The participants' ages ranged between 25 and 30 years (66.7%), and 107 (81.1%) had a working experience of less than 10 years. Ninety-one (68.9%) dentists were working for 6-8 hours per day and 57 (43.2%) of the participants had a normal body mass index (BMI) ratio.
Conclusion: Dentists who work in hospitals of Peshawar appear to suffer from Carpal Tunnel Syndrome. Dentists who have more hours of contact time with patients per day have increased risk of CTS symptoms but no association was found between gender and CTS symptoms. Furthermore, the symptoms of CTS increased with age.
References
Wright AR, Atkinson RE. Carpal Tunnel Syndrome: An Update for the Primary Care Physician. Hawai'i J Health & Soc Welfare. 2019;78(11 s2):6.
Ibrahim I, Khan W, Goddard N, Smitham P. Suppl 1: carpal tunnel syndrome: a review of the recent literature. The open ortho J. 2012;6:69.
Kaleema SM, Asifb SM, Kotac MZ, Alamd T, Assirie H, Zakirullahf M. Ergonomic Considerations in the Incidence of CTS in College of Dentistry, King Khalid University, Abha–Kingdom of Saudi Arabia. Oral Health Prev Dent. 2020;18:277-86.
Fowler JR. Nerve conduction studies for carpal tunnel syndrome: gold standard or unnecessary evil? Orthopedics. 2017;40(3):141-2.
Ntani G, Palmer KT, Linaker C, Harris EC, Van der Star R, et al. Symptoms, signs and nerve conduction velocities in patients with suspected carpal tunnel syndrome. BMC Musculosk Disord. 2013;14(1):1-10.
Duncan SF, Bhate O, Mustaly H. Pathophysiology of carpal tunnel syndrome. Carpal Tunnel Syndrome and Related Median Neuropathies: Springer; 2017.13-29.
Bao SS, Kapellusch JM, Merryweather AS, Thiese MS, Garg A, Hegmann KT, et al. Impact of work organizational factors on carpal tunnel syndrome and epicondylitis. J Occup Envir Med. 2016;58(8):760-764. doi: 10.1097/JOM.0000000000000790.
Singh GK, Srivastava S. Grip strength of occupational workers in relation to carpal tunnel syndrome and individual factors. Int J Occup Saf Ergon.2018;26(2): 296-302. doi: 10.1080/10803548.2018.1462915.
Hulkkonen S, Shiri R, Auvinen J, Miettunen J, Karppinen J, Ryhanen J. Risk factors of hospitalization for carpal tunnel syndrome among the general working population. Scand J Work, Environ Health. 2020;46(1):43-49.
Dada S, Burger MC, Massij F, de Wet H, Collins M. Carpal tunnel syndrome: The role of collagen gene variants. Gene. 2016;587(1):53-8.
Karimi N, Tabrizi N, Moosavi M. Prevalence of carpal tunnel syndrome and associated risk factors. J Mazandaran Uni Med Sci. 2017;26(146):179-84.
Deniz FE, Öksüz E, Sarikaya Ba, Kurt S, Erkorkmaz Ü, Ulusoy H, et al. Comparison of the diagnostic utility of electromyography, ultrasonography, computed tomography, and magnetic resonance imaging in idiopathic carpal tunnel syndrome determined by clinical findings. Neurosurg. 2012;70(3):610-6.
Zhang D, Chruscielski CM, Blazar P, Earp BE. Accuracy of Provocative Tests for Carpal Tunnel Syndrome. J Hand Surg Glob Online. 2020;2(3):121-125.
Munirah M, Normastura A, Azizah Y, Aziah D. Prevalence of probable carpal tunnel syndrome and its associated factors among dentists in Kelantan. Int J Collab Res on Int Med Pub Health. 2014;6(8):247.
Haghighat A, Khosrawi S, Kelishadi A, Sajadieh S, Badrian H. Prevalence of clinical findings of carpal tunnel syndrome in Isfahanian dentists. Adv Biomed Res. 2012;1:13. doi: 10.4103/2277-9175.96069.
Alhusain FA, Almohrij M, Althukeir F, Alshater A, Alghamdi B, Masuadi E, et al. Prevalence of carpal tunnel syndrome symptoms among dentists working in Riyadh. Ann Saudi Med. 2019;39(2):104-11.
Ehsan SEMA, Arshad HS. Frequency of Carpal Tunnel Syndrome in Dentists Working in Government Hospitals of Lahore. Int J Sci Res (IJSR). 2016; 5(5):1672 - 5.
KHAN AA, SIDDIQUI AZ, AHMED MR, ASKARI H, ZAHID A. Prevalence of carpel tunnel syndrome in the dentists working in karachi. Pak Oral Dent J. 2014;34(4):588-591.
KAMATH V, STOTHARD J. A Clinical Questionnaire for the Diagnosis of Carpal Tunnel Syndrome. J Hand Surgery. 2003;28(5):455-9.
Leite JCdC, Jerosch-Herold C, Song F. A systematic review of the psychometric properties of the Boston Carpal Tunnel Questionnaire. BMC Musculoskel Disord. 2006;7(1):78.
Rayegani SM, Adybeik D, Kia MA. Sensitivity and Specificity of Two Provocative Tests (Phalen's Test and Hoffmann-Tinel'S Sign) in The Diagnosis of Carpal Tunnel Syndrome. J Orthopaed Med. 2004;26(2):51-3.
Hjermstad MJ, Fayers PM, Haugen DF, Caraceni A, Hanks GW, Loge JH, et al. Studies comparing Numerical Rating Scales, Verbal Rating Scales, and Visual Analogue Scales for assessment of pain intensity in adults: a systematic literature review. J pain symp Manage. 2011;41(6):1073-93.
Inbasekaran D, Sankari M, Nambi G. Prevalence of carpal tunnel syndrome among dentists in Chennai, India. Drug Inven Today. 2018;10(3):3262-5.
Ravisankar A, Thenmozhi M. Awareness, knowledge, and prevalence of carpal tunnel syndrome among dental students in Saveetha Dental College. Drug Inven Today. 2020;14(6):920-923.
Anton D, Rosecrance J, Merlino L, Cook T. Prevalence of musculoskeletal symptoms and carpal tunnel syndrome among dental hygienists. Am J Industrial Med. 2002;42(3):248-57.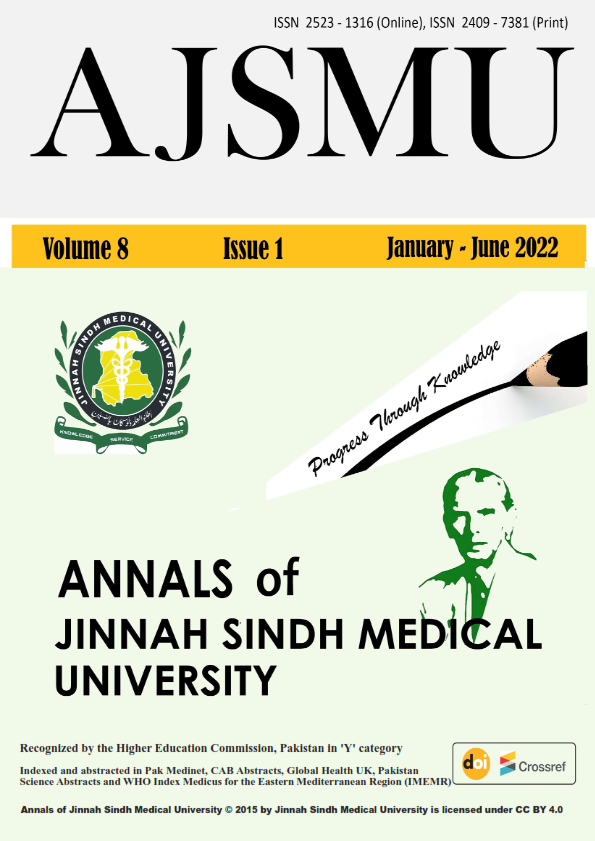 How to Cite
Zubair, M., Khan, P., Ahmad, U., Abidin, S., Shah, S., & Kazmi, A. (2022). Prevalence of Carpal Tunnel Syndrome Among Dentists Working in Tertiary Care Hospitals of Peshawar, Pakistan. Annals of Jinnah Sindh Medical University, 8(1), 36-41. https://doi.org/10.46663/ajsmu.v8i1.36-41
Section
Original Articles