Frequency of Caesarean Section in Patients with Oligohydramnios at Tertiary Care Hospital
DR ROMANA BIBI

POSTGRADUATE RESIDENT GYNAE/OBS

DR SHAHINDA

Postgraduate resident gynae/Obs HMC/MTI/Peshawar

DR BUSHRA AJMAL

POST GRADUATE RESIDENT GYNECOLOGY AND OBSTETRICS HMC/MTI/PESHAWAR

DR AYESHA NAWAZ

POST GRADUATE RESIDENT GYNECOLOGY AND OBSTETRICS LRH/MTI/PESHAWAR

DR NAYYAB QAYYUM

POST GRADUATE RESIDENT GYNECOLOGY AND OBSTETRICS KTH/MTI/PESHAWAR

DR AMBAREEN ZAMAN

POST GRADUATE RESIDENT GYNECOLOGY AND OBSTETRICS HMC/MTI/PESHAWAR
Keywords:
Amniotic Fluid Index (AFI), Cesarean Section, Oligohydramnios, Morbidity
Abstract
INTRODUCTION: Cesarean section is a fetal delivery through an open abdominal incision (laparotomy) and an incision in the uterus (hysterotomy). The first cesarean documented occurred in 1020 AD, and since then the procedure has evolved tremendously.  It is now the most common surgery performed in the United States, with over 1 million women delivered by cesarean every year. This study will help formulate an appropriate follow-up plan to minimize the risk of both the fetal and maternal complications associated with Oligohydramnios in our local population.
OBJECTIVE: To determine the frequency of Cesarean Section in pregnant women with Oligohydramnios presenting to MTI-Hayatabad Medical Complex, Peshawar.
METHODOLOGY:  This Descriptive Cross Sectional in the Departments of Obs & Gynae, MTI-HMC, Peshawar from 28 Feb, 2021 to 28 Aug, 2021.  All patients were induced by glandin E2 gel. If induction of patients failed with two doses of glandin E2 gel, given vaginally 6 hours apart, patients were considered for cesarean section.
RESULTS: As per frequencies and percentages for cesarean section in pregnant women with oligohydramnios, 42 (18.5%) patients were recorded with cesarean section.
CONCLUSION: This study demonstrated that pregnant women at term with oligohydramnios are at increased risk of caesarean delivery, therefore, adequate measure shall be taken in such patients in order to minimize risk of cesarean section associated with oligohydramnios in our local population.
KEYWORDS: Amniotic Fluid Index (AFI), Cesarean Section, Oligohydramnios, Morbidity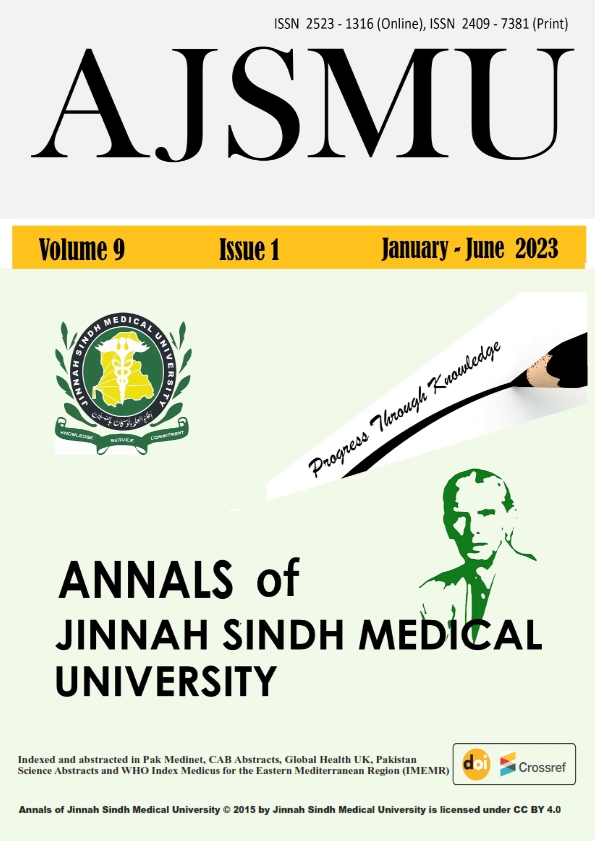 How to Cite
BIBI, D., SHAHINDA, D., AJMAL, D., NAWAZ, D., QAYYUM, D., & ZAMAN, D. (2023). Frequency of Caesarean Section in Patients with Oligohydramnios at Tertiary Care Hospital. Annals of Jinnah Sindh Medical University, 9(1), 10-13. https://doi.org/10.46663/ajsmu.v9i1.10-13
Section
Original Articles