Association of Dementia in Metformin Users With Type 2 Diabetes (T2DM) at Tertiary Care Hospital in Karachi
rozina fazal

JSMU

Hikmata Ali

Post Fellow at NICVD Karachi

Syed Mahboob Alam

HOD Pharmacology & Therapetics BMSI JPMC Karachi

Saeeda Naseer

BMSI/JPMS/M.phil student

Syed Saqib Khalid

BMSI/JPMS/M.phil student
Keywords:
Type 2 Diabetes Mellitus (T2DM), Dementia, Age, Gender,
Abstract
Objective: To determine the association of dementia in metformin users of Type 2 Diabetes at JPMC Karachi
Methodology: This cross-sectional study using a non-probability purposive sampling technique was carried out in the outpatient department of Diabetes clinic JPMC Karachi after approval from the Institutional Review Board (IRB) JPMC Karachi. The study period was 6th months from February/20/2020 to August/20/2020  A total of 83 patients out of 350 types 2 diabetes mellitus (T2DM) using Metformin of both genders with the ages 18 to 75 were selected by MMSE including in the study and were evaluated for the association.
Results: Out of 83 patients women (50) 62.2 % had more dementia compared to males (33) 39.8% with a significant p of 0.015. Our study shows the risk of mild to moderate dementia increase with the increase in mean age 47.29±7.63 years to 52.50±8.85 years respectively with a significant p 0.006 and the risk of dementia increases with the duration of diabetes as a patient with a mean of 3.74±2.3 years of diabetes had mild dementia whereas the patient with mean 9.20±3.9years of diabetes had moderate dementia with a significant p<0.001.
Conclusion: The finding of this study concludes that dementia in metformin users of T2DM is more in females and the risk of dementia increases with age and with the duration of diabetes.
References
World Health Organization. Global action plan on the
public health response to dementia 2017–2025. Geneva,
CH:WHO;2017.Availableat: https://www.who.int/
mental_health/neurology/dementia/action_ plan_2017_
/en/.
Baumgart M, Snyder HM, Carrillo MC, Fazio S, Kim
H, Johns H. Summary of the evidence on modifiable
risk factors for cognitive decline and dementia: A
population-based perspective. Alzheimers Dement.
;11(6):718-26.
Prince M, Ali GC, Guerchet M, Prina AM, Albanese
E, Wu YT. Recent global trends in the prevalence and
incidence of dementia, and survival with dementia.
Alzheimers Res Ther. 2016;8(1):23.
Khursheed M, Fayyaz J, Feroze A, Shakeel N, Bhatti
JA. Time to treatment in patients of suspected acute
coronary syndrome in Pakistan: A clinical audit. Heart
& Lung. 2015;44(1):63-7.
Asghar Z, Nicolas F, Sara B, Hussain J, Qurat K, Rubina
J. Understanding, beliefs and treatment of dementia in
Pakistan. Oxford Institute of Population Ageing Logo.
Wimo A, Guerchet M, Ali G-C, Wu Y-T, Prina AM,
Winblad B, et al. The worldwide costs of dementia
and comparisons with 2010. 2017;13(1):1-7.
Dening T, Sandilyan MB. Dementia: definitions and
types. Nurs Stand. 2015; 29(37):37-42. doi: 10.7748/ns.
37.37.e9405.
Chari D, Ali R, Gupta R. Reversible dementia in elderly:
Really uncommon? 2015;2(1):30-7. Available
from:https://www.jgmh.org/text.asp?2015/2/1/30/161378
Cooper C, Sommerlad A, Lyketsos CG, Livingston G.
Modifiable predictors of dementia in mild cognitive
impairment: a systematic review and meta-analysis.
Am J Psychiatry. 2015;172(4):323-34.
Zheng B, Su B, Price G, Tzoulaki I, Ahmadi-Abhari S,
Middleton L. Glycemic control, diabetic complications,
and risk of dementia in patients with diabetes: results
from a large UK cohort study. Diabetes Care. 2021;
(7):1556-63.
Davis WA, Zilkens RR, Starkstein SE, Davis TME,
Bruce DG. Dementia onset, incidence and risk in type
diabetes: a matched cohort study with the Fremantle
Diabetes Study Phase I. Diabetologia. 2017;60(1):89-
Kharroubi AT, Darwish HM. Diabetes mellitus: The
epidemic of the century. World J Diabetes. 2015;
(6):850-67.
Ahmed I, Jahangir U, Talat H, Akhund F. Type II
diabetes mellitus: frequency of cutaneous bacterial
infections in patients with type II diabetes mellitus. The
Professional Medical Journal. 2018;25(09):1369-73.
Khawandanah J. Double or hybrid diabetes: A systematic
review on disease prevalence, characteristics and risk
factors. Nutrition & diabetes. 2019;9(1):33.
Halim M, Halim A. The effects of inflammation, aging
and oxidative stress on the pathogenesis of diabetes
mellitus (type 2 diabetes). Diabetes & metabolic
syndrome: clinical research & reviews. 2019;13(2):1165-
Ida Kim W-A, Merete O, Martin Balslev J, Jørgen R,
Marie Kim W-A. Antidiabetic medication and risk of
dementia in patients with type 2 diabetes: a nested
case–control study. European Journal of Endocrinology.
;181(5):499-507.
Ghandour R, Mikki N, Abu Rmeileh NME, Jerdén L,
Norberg M, Eriksson JW, et al. Complications of type
diabetes mellitus in Ramallah and al-Bireh: The
Palestinian Diabetes Complications and Control Study
(PDCCS). Primary Care Diabetes. 2018;12(6):547-57.
Kandimalla R, Thirumala V, Reddy PH. Is Alzheimer's
disease a Type 3 Diabetes? A critical appraisal. Biochim
Biophys Acta Mol Basis Dis. 2017;1863(5):1078-89.
Biessels GJ, Despa F. Cognitive decline and dementia
in diabetes mellitus: mechanisms and clinical
implications. Nat Rev Endocrinol. 2018;14(10):591-
Corcoran C, Jacobs TF. Metformin - StatPearls - NCBI
StatPearls Publishing; 2023.
Zhang Q, Hu N. Effects of metformin on the gut
microbiota in obesity and type 2 diabetes mellitus.
Diabetes, metabolic syndrome and obesity: targets and
therapy. 2020;13:5003.
Lien F, Berthier A, Bouchaert E, Gheeraert C, Alexandre
J, Porez G, et al. Metformin interferes with bile acid
homeostasis through AMPK-FXR crosstalk. The Journal
of clinical investigation. 2014;124(3):1037-51.
Thangthaeng N, Rutledge M, Wong JM, Vann PH,
Forster MJ, Sumien N. Metformin impairs spatial
memory and visual acuity in old male mice. Aging and
disease. 2017;8(1):17.
Chin-Hsiao T. Metformin and the Risk of Dementia in
Type 2 Diabetes Patients. Aging Dis. 2019;10(1):37-
Barzilai N, Crandall JP, Kritchevsky SB, Espeland MA.
Metformin as a Tool to Target Aging. Cell Metab.
;23(6):1060-5.
Davis MA, Chang CH, Simonton S, Bynum JP. Trends
in US medicare decedents' diagnosis of dementia from
to 2017. JAMA Health Forum. 2022;3(4):e220346.
doi: 10.1001/jamahealthforum.2022.0346.
Arevalo-Rodriguez I, Smailagic N, Roqué-Figuls M,
Ciapponi A, Sanchez-Perez E, Giannakou A, et.al. Mini-
Mental State Examination (MMSE) for the early
detection of dementia in people with mild cognitive
impairment (MCI). Cochrane Database Syst Rev. 2021
Jul 27;7(7):CD010783. doi: 10.1002/14651858.
CD010783.pub3.
Seetlani NK, Kumar N, Imran K, Ali A, Shams N,
Sheikh T. Alzheimer and vascular dementia in the elderly
patients. Pak J Med Sci. 2016;32(5):1286-90.
Mayeda ER. Invited commentary: examining sex/gender
differences in risk of Alzheimer disease and related
dementias—challenges and future directions. Am J
Epidemiol. 2019 Jul 1;188(7):1224-1227. doi:
1093/aje/kwz047.
Zia A, Bhatti A; Jalil F, Wang X, John P.Kiani AK,.et
al. Prevalence of type 2 diabetes–associated
complications in Pakistan. Int J Diabetes Dev. Ctries.
;36(2):179–188. DOI:10.1007/s13410-015-0380-6.
Floud S, Simpson RF, Balkwill A, Brown A, Goodill
A, Gallacher J, et.al. Body mass index, diet, physical
inactivity, and the incidence of dementia in 1 million
UK women. Neurology. 2020;94(2):e123-32.
Jeong JH, Lee DH, Song J. HMGB1 signaling pathway
in diabetes-related dementia: Blood-brain barrier
breakdown, brain insulin resistance, and Aâ
accumulation. Biomed Pharmacother.. 2022;150:112933.
doi: 10.1016/j.biopha.2022.112933.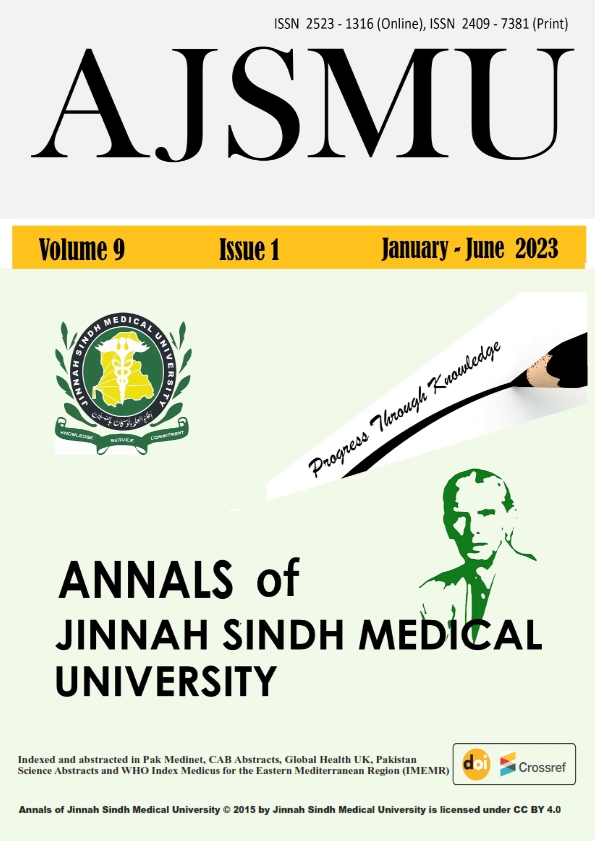 How to Cite
fazal, rozina, Ali, H., Alam, S. M., Naseer, S., & Khalid, S. S. (2023). Association of Dementia in Metformin Users With Type 2 Diabetes (T2DM) at Tertiary Care Hospital in Karachi. Annals of Jinnah Sindh Medical University, 9(1), 18-22. https://doi.org/10.46663/ajsmu.v9i1.18-22
Section
Original Articles