Prevalence of Gingivitis and its Severity in -thalassemia Major (TM- ) Patients at a Thalassemia Center in Karachi, Pakistan
Ayesha Hanif

Ziauddin University

Komal Khan

Ziauddin College of Dentistry
Keywords:
β-Thalassemia major, oral health, prevalence
Abstract
Abstract
Objective: Increased prevalence of gingival diseases in β-thalassemia major (TM- β) has been consistently reported. However, there is a lack of local data regarding the oral health data in TM- β.  This study determines the prevalence of gingivitis and categorize the severity of the disease in β-thalassemia major (TM- β) patients according to gender at a thalassemia center in Karachi, Pakistan.
Methodology: In this cross-sectional observational study, 137 patients were screened via consecutive sampling over the duration of three months from November 2021 to February 2022. 36 patients (18 males and 18 females) fulfilling the selection criteria were assessed. Clinical examination for gingivitis was carried out with a periodontal probe (UNC-15) according to Loe & Silness Gingival Index (GI). The results were analyzed using Microsoft Excel 2019 and IBM SPSS statistics version 23.0. Categorical data (gender, severity of gingivitis) are expressed as percentages and frequencies. Age, GI score is expressed in mean ± SD.
Results: 86% of the assessed individuals had gingivitis out of which, 6% had mild gingivitis, 44% had moderate and 36% had severe gingivitis. However, there was no gender predilection observed for the distribution of severity of disease.
Conclusion: Thalassemia patients present with increased prevalence of gingivitis due to compromised immune function. The need to manage the disease burden and identifying the apprehensions of a general dentist in treating these patients is required. Moreover, awareness about neglected oral health is needed for all the stake holders involved in the preventive and therapeutic management for this cohort.
Keywords: β-Thalassemia major, Gingivitis, oral health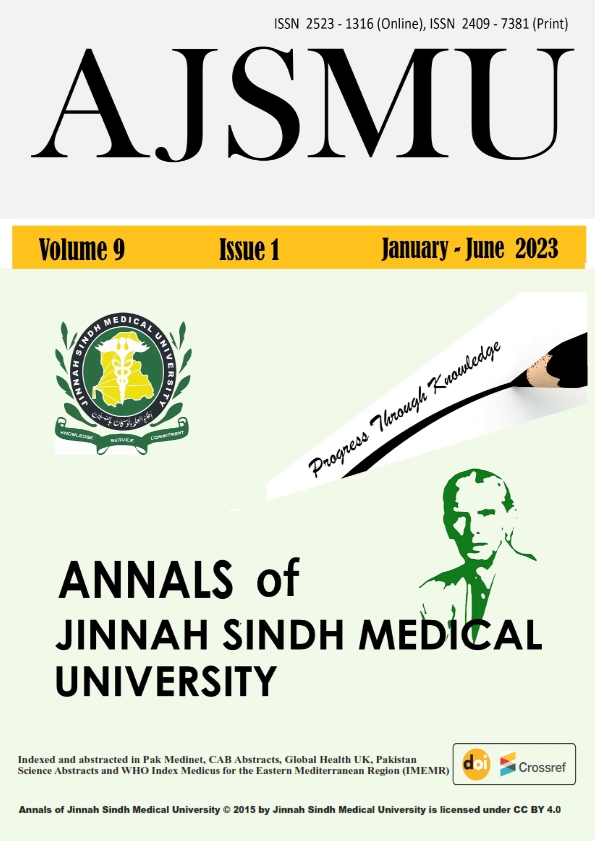 How to Cite
Hanif, A., & Khan, K. (2023). Prevalence of Gingivitis and its Severity in -thalassemia Major (TM- ) Patients at a Thalassemia Center in Karachi, Pakistan. Annals of Jinnah Sindh Medical University, 9(1), 23-27. https://doi.org/10.46663/ajsmu.v9i1.23-27
Section
Original Articles