IMPACT OF OXIDATIVE STRESS ON HYPERTENSION IN PATIENTS ON MAINTENANCE HEMODIALYSIS
Sadia Rehman, Dr

Bahria University

Dr Santosh Kumar

Assistant Professor

Abdul Manan Junejo, Dr

Jinnah Postgraduate Medical Centre

Fatima Mehboob, Dr

Bahria University

Hasan Ali, Professor

Bahria University

Noorul Ain Nisa, Dr

JSMU
Keywords:
Oxidative stress, hemodialysis, BMI, plasma SOD, hypertension,, serum Malondialdehyde,
Abstract
Objective: To assess the association of oxidative stress with hypertension and its correlation with the duration of hemodialysis.
Methodology: It was a case control study conducted in a public sector tertiary care hospital in 2017. The study participants were recruited from the nephrology ward while the healthy controls were taken from participant neighborhood through frequency matching. Non probability consecutive sampling technique was employed. Cases were included as suffering from chronic renal failure and receiving maintenance hemodialysis. Exclusion criteria was patients suffering from any other chronic illness other than chronic renal failure ( pulmonary disease and hepatic insufficiency). Detailed analysis was done with application of ANOVA, Pearson correlation and pooled t test. P value less than 0.05 was taken as significant.
Results: Highly significant difference was observed in mean serum Malondialdehyde, mean Plasma SOD, mean systolic BP and mean BMI among the cases and controls. (p value < 0.001). with SOD showing a significant negative linear relationship with Blood pressure and Malondialdehyde showing a positive linear relationship with blood pressure.
Conclusion: Oxidative stress worsens with progression of chronic renal disease and hemodialysis and leads to development of hypertension.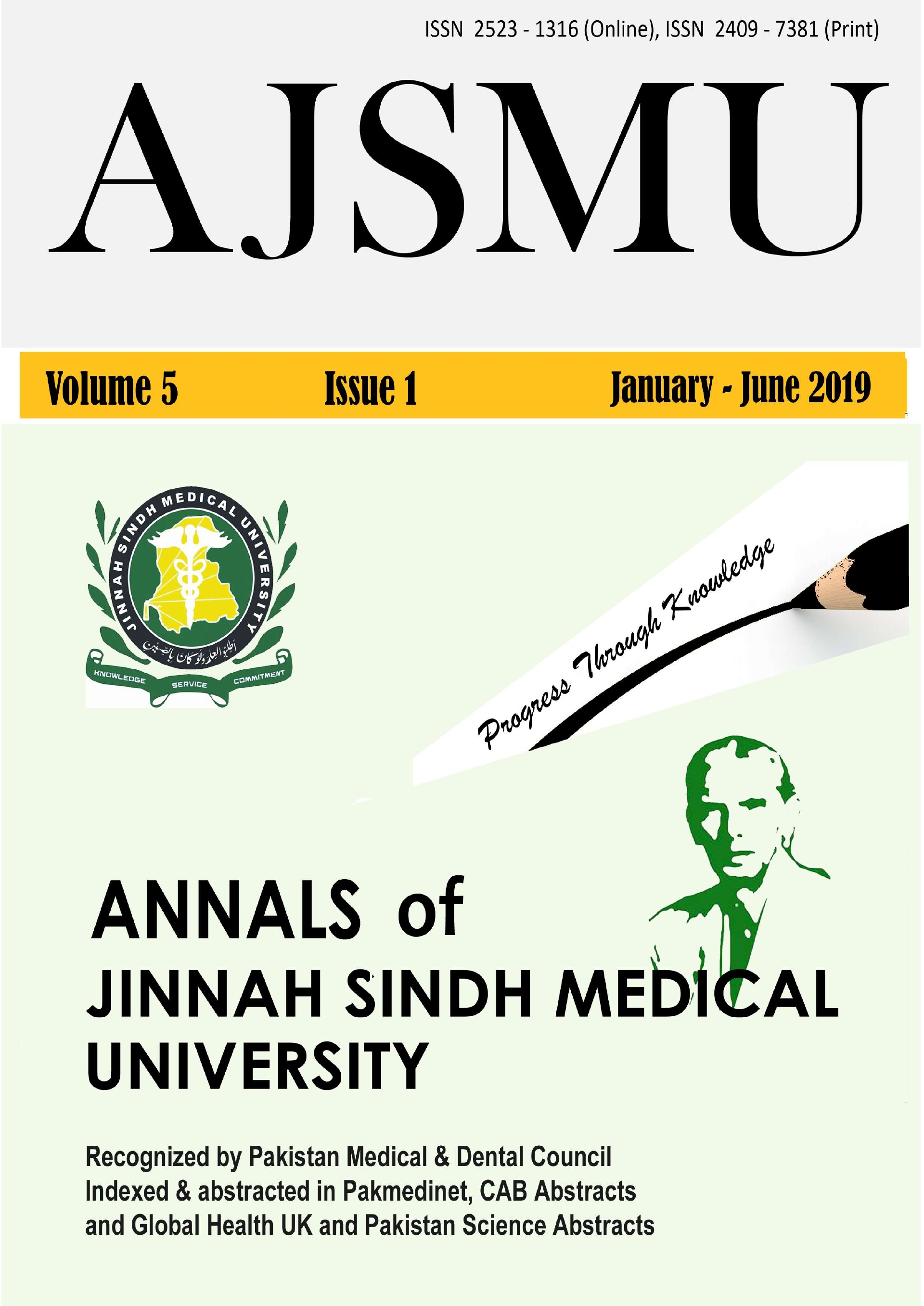 How to Cite
Rehman, S., Kumar, D. S., Junejo, A., Mehboob, F., Ali, H., & Nisa, N. (2019). IMPACT OF OXIDATIVE STRESS ON HYPERTENSION IN PATIENTS ON MAINTENANCE HEMODIALYSIS. Annals of Jinnah Sindh Medical University, 5(1), 15-20. Retrieved from http://ajsmu.com/index.php/AJSMU/article/view/71
Section
Original Articles