Undergraduate Medical Education in the Post Covid Era
Shahid Shamim

Sindh Institute of Urology and Transplant

Syed Jaffar Abbas Zaidi

Dow University of Health Sciences
Keywords:
medical education, technology based education, Learning Management
Abstract
The healthcare contingency due to COVID-19 compelled social distancing measures that drastically altered day-to-day education delivery. The education of healthcare professionals was affected the most as they specifically require students to work collaboratively and closely with the patients. However, within this turmoil, the pandemic provided opportunities for institutes, faculty, and students to develop innovative methods for achieving their learning outcomes through virtual or remote learning. Thereby, in several institutes, faculty and students adapted to the virtual or remote learning methods to minimise the effects of social distancing1 and attempted to create the "new normal" in healthcare education.
As the Covid pandemic decreases and the educational activities revive in campuses, it is prudent to suggest if the "new normal" in healthcare education will continue. Therefore, this editorial looks at potential variables that healthcare educators may contemplate while providing post-covid medical and dental education.
References
Mumtaz N, Saqulain G, Mumtaz N. Online academics in Pakistan: COVID-19 and beyond. Pakistan Journal of Medical Sciences. 2021 Jan;37(1):283.
Dogar AA, Shah I, Ali SW, Ijaz A. Constraints to Online Teaching in Institutes of Higher Education during Pandemic COVID-19: A Case Study of CUI, Abbottabad Pakistan. Revista Romaneasca Pentru Educatie Multidimensionala. 2020 Sep 7;12(2Sup1):12-24.
Feroze N, Ans M, Mahmood K, Ali HA, Afzal H. Impact of covid-19 pandemic on training activities of general surgery residents in Pakistan Army. PAFMJ. 2020 Aug 7;70(1):S326-30.
Rafiq M, Batool SH, Ali AF, Ullah M. University libraries response to COVID-19 pandemic: A developing country perspective. The Journal of Academic Librarianship. 2021 Jan 1;47(1):102280.
Younos A. Online education for developing contexts. XRDS: Crossroads, The ACM Magazine for Students. 2012 Dec 1;19(2):27-9.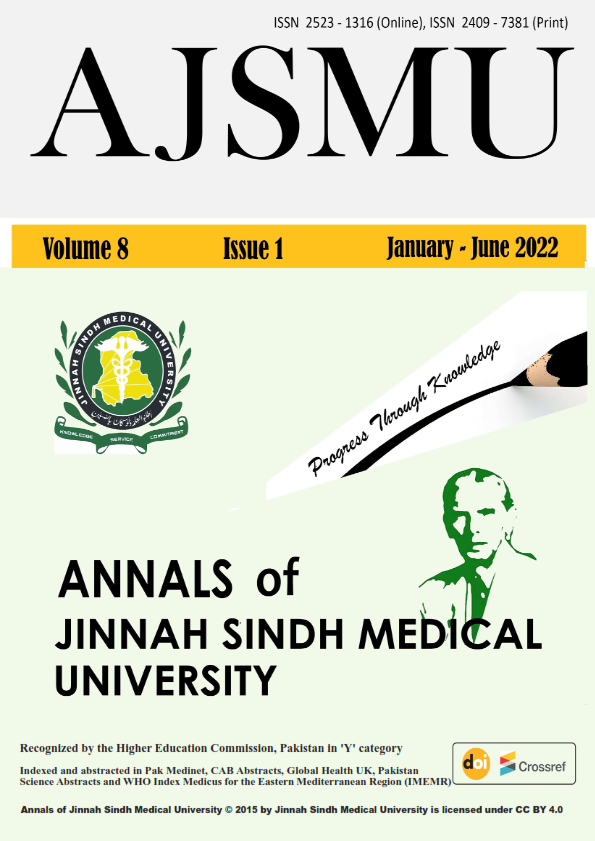 How to Cite
Shamim, S., & Zaidi, S. J. (2022). Undergraduate Medical Education in the Post Covid Era. Annals of Jinnah Sindh Medical University, 8(1), 1-2. https://doi.org/10.46663/ajsmu.v8i1.1-2