Immune-Expression of P53 in Oral Preneoplastic and Neoplastic Squamous Lesions
Saadia Akram, Professor

JSMU

Saba Sattar

Jinnah Sindh Medical University

Mohammad Amir Mirza

Dow University of Health Sciences

Talat Mirza

Ziauddin University

Sarah Mirza

Dow University of Health Sciences
Keywords:
Oral Squamous cell carcinoma, Oral premalignant lesions, p53
Abstract
Objective: This study aimed to detect p53 immuno-expression in oral preneoplastic and neoplastic squamous lesions and to evaluate the correlation between these lesions and p53.
Methodology: Hundred cases of Oral Squamous Cell Carcinoma (OSCC) and 50 cases of Oral Premalignant Lesions (OPL) were included. Selected tissues were stained with Hemotoxylin & Eosin (H&E), followed by immunohistochemistry for p53.
Results: Nearly half (48%) of OSCC were well differentiated, 37% moderately, and 15% were poorly differentiated. Majority (74%) of the presented cases were in advanced stages. In OPL cases, 50% presented as mild dysplasia, 32% as moderate, and 18 % as severe dysplasia. p53 nuclear staining was positive in 70 (70 %) cases of OSCC and 27 (54 %) of OPL. Correlation of p53 with tumor histological grade was significant (P<0.05).
Conclusion: High frequency and strong positivity of p53 tumor suppressor gene in oral dysplasia and OSCC have been implicated as an early indicator in oral carcinogenesis. Higher frequency of p53 positivity in carcinoma than dysplasia can be considered as a predictive marker. P53 may serve as a potential target for individualized therapy.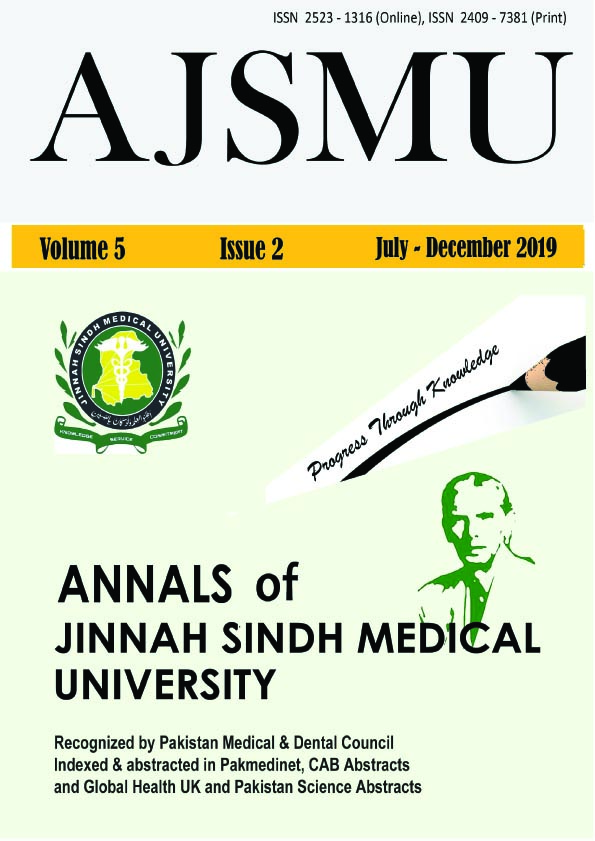 How to Cite
Akram, S., Sattar, S., Mirza, M., Mirza, T., & Mirza, S. (2020). Immune-Expression of P53 in Oral Preneoplastic and Neoplastic Squamous Lesions. Annals of Jinnah Sindh Medical University, 5(2), 51-56. Retrieved from http://ajsmu.com/index.php/AJSMU/article/view/69
Section
Original Articles